Stochastic Immersed Boundary Method
Implementated by Paul J. Atzberger, University of California Santa Barbara. Copyright 2008.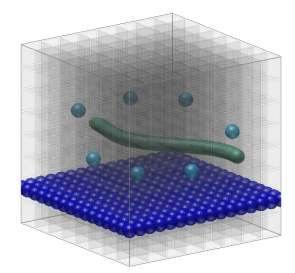 Main Menu:
Please cite the following reference when reporting results using this software:
A Stochastic Immersed Boundary Method for Fluid-Structure Dynamics at Microscopic Length Scales,
Atzberger, P.J., Kramer, P.R., and Peskin, C.S., J. Comp. Phys., Vol. 224, Iss. 2, (2007).
Significant further developments have been made on this research and a new set of numerical methods and codes put together. For more information, please see the Mango-Selm Project Homepage.